Climate-controlled Storage for Shipments and other Items
Warehouses are often large facilities designed to provide not only security for shipments and other items, but also a climate-controlled environment to prevent spoilage or product damages.
Facilities like these have become invaluable in the modern business environment as companies have started storing and distributing their own products on a global level. This makes warehouses particularly useful for companies that specialize in imports and exports, transportation or manufacturing.
By utilizing an extensive network of distribution and warehouse facilities, the need for qualified candidates that can use best-in-class tools and system or ensure operation automation has become critical in recent years.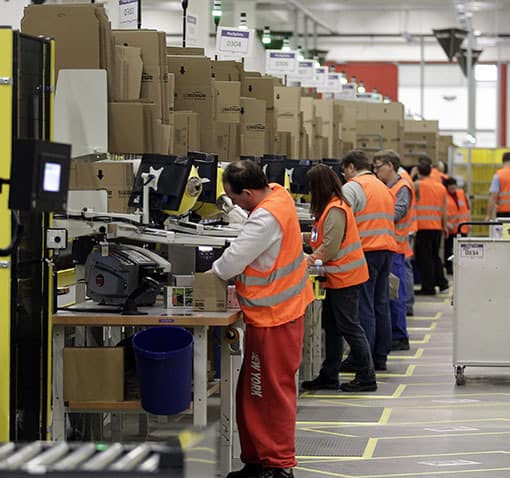 Although automation has become a fundamental piece of technology among warehouses, the need for skilled logistics and warehouse workers is higher than ever. This continued growth ensures that you can never go wrong when pursuing a career as a warehouse technician.
At Performance Personnel, we go the extra mile to hook you up with the top companies in the industry in the Clearwater and the surrounding areas in Florida.
You might think that all warehouse jobs are the same. However, the truth is that different roles can be played in a warehouse, all with different titles. Here are some warehouse jobs alongside their estimated hourly and annual wages.
Hand laborers and material movers: $12 per hour or $24,000

Pickers and packers: $11 per hour or $22,000
Forklift operators: $15 per hour or $30,000

Warehouse foreman: $29 per hour or $60,000
In a small warehouse, all workers are likely to carry out a variety of tasks, including sorting, stacking and storage. Jobs may also involve lifting heavy boxes, as well as assembling them on a pallet. Conversely, in a huge warehouse, some workers often specialize in one task while others perform a multitude of jobs like loading and unloading goods from trucks using cranes. Other responsibilities may include wheeling around a forklift and stocking, as well as picking and packing.
Warehouse jobs are not for the faint-hearted. Much of the work requires physical endurance, strength and acute senses and alertness. Accidents and injuries can happen while working with machinery and heavy products and materials.
Other skill sets that will give you a cut above the rest include the ability to work in a team, communication skills, and analytical and problem-solving skills. Additionally, with the advancement of technology and the use of those technologies in warehouses and machinery, computer literacy is becoming a valued skill.
When you put serious effort and time into your work, your warehouse job will pay off.
Entry Requirements and Operative Skills
In order to qualify for an entry-level position in a warehouse, typically no secondary education is required. In some cases, companies might require a high school diploma or equivalent to work as a warehouse worker. Some companies will prefer individuals with a valid driver's license to double as forklift operators.
Aside from experience and education, physical strength and labor experiences are highly valued skills and qualities. Employers will prefer passionate, enthusiastic individuals who possess a healthy can-do attitude and have a desire to learn.
Where Can I Find Warehouse Jobs Near Me?
Without a doubt, there are plenty of warehouse jobs hiring in almost every region in Florida, at every time of the year. Therefore, if you are looking for a job, Performance Personnel is here to help. We will connect you with the right job to match your interests, skills, and muscle.