Passionate Mechanical and Electrical Engineers
As a massive field with varied applications, engineering provides a variety of fantastic opportunities, particularly for those that are passionate about mechanical and electrical aspects of the job. However, in the past these disciplines to be perceived as separate entities with entirely different concepts. We have seen a dramatic shift in this factor as the demands of each continue to expand.
In modern times, the scope of engineering has evolved far beyond its original definition to include both mechanical and electrical concepts, requiring modern engineers to possess skills in each. In fact, learning institutions now offer a double major in both. With this shift in paradigm, new job avenues have opened in the broad mechanical and electrical assembly industry.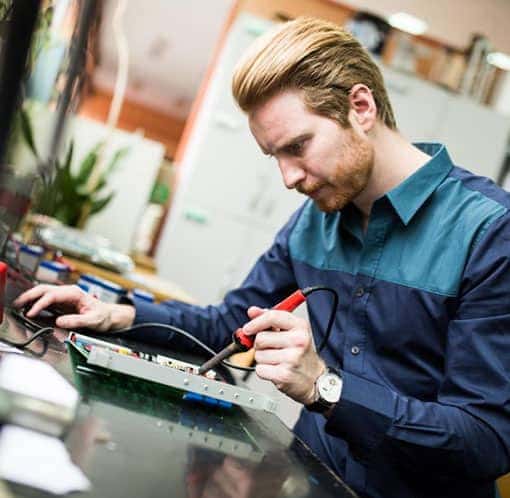 Are you looking for a job as a mechanical or electrical engineer? Performance Personnel is here to connect you with the top organizations in the industry.
What Is the Scope Of Electrical and Mechanical Engineering Jobs?
Mechanical and electrical assembly encompasses the manufacture and repairing of a broad spectrum of electronic and electrical products. These include (but not limited to) mobiles phones, computers, consumers electronic. Electromechanical engineering technologists, for instance, are responsible for designing, developing, testing, and manufacturing just about anything from a fax machine to a high-rise satellite system.
This is made possible by their dual knowledge in both mechanics and electricity. Like most other professionals, mechanical and electrical engineers use computer technology to a significant degree. This helps them create and analyze designs, generate specifications for parts, interact with connected systems, run simulations, and test how a machine is likely to work.
Other responsibilities may include:
Assembling or fabricating mechanical products, pieces or parts using various tools and equipment

Maintaining a clean and safe work area

Performing all work according to quality standards and established safety procedures

Utilizing handheld tools, such as the torque wrench and impact wrench

Analyzing test results and making changes to the system as needed
Developing and testing prototypes of devices they design

Investigating equipment difficulties or failures to diagnose faulty operation and recommending remedies

Using analysis and computer-aided design

Performing functional testing of machines according to final inspection requirements

Following verbal instruction and reading blueprints
Job Prospects for Electrical and Mechanical Engineering Jobs
Mechanical and electrical assemblers have a variety of job opportunities and high demand. Employment prospects may be even better for those who are well versed in the most recent advances in technology. Although newer techniques, such as 3D printing, have brought a transformative effect on the sector, industry statistics project that the job outlook will grow by 5% before 2024.
Licenses, Certifications, and Registrations
Some of the professional requirements of a mechanical or electric assembler include:
A passing score on the professional engineering (PE) exam

A passing score on the Fundamental of Engineering (FE) exam

A degree from an ABET-accredited engineering program
Education requirements vary from employer to employer. However, a high school diploma is usually desired for an entry-level position, while on-the-job training and experience are needed for more advanced assembly positions. Sometimes, training into a specific position will require employer-sponsored technical instruction.
What Are Important Physical Attributes And Skill Sets Needed?
This occupation can be physically demanding. Hence, an individual must have the physical strength to stand dangerous and challenging work environments. Also, they must have proper hand-eye coordination and be able to stoop, bend or stand for extended periods of time.
If you are interested in electrical and/or mechanical jobs, Performance Personnel can help you by connecting you with a top level organization in Clearwater and the surrounding areas. We are the leading industrial staffing organization in Florida.